Recollect, Robinson was trying to explain why the nitroso group appears to be an o/p director of aromatic electrophilic substitution. Using σ/π orthogonality, I suggested that the (first ever) curly arrows as he drew them could not be the complete story, and that a transition state analysis would be needed. Here it is. 
Let me set the scene on how this might be done. Although aromatic electrophilic substitutions are the grand-daddy of all mechanisms, they present some computational challenges. An electrophile is needed, and this is normally represented by E+. This reacts with an aromatic ring to form (so the text books show) a charged Wheland intermediate. A second stage then takes over, whereby a base (B:) abstracts the ring proton to give BH+ and the substituted product. This is clearly an ionic mechanism. And if one does not forget the counter-ions in all of this (see my post on not forgetting them!), it is an ion-pair mechanism. But in relatively non-polar media, need ion-pairs form? A little while ago, I speculated that the two stages could be conflated into one, concerted, pathway. That pathway is shown above. I decided that this was a convenient template upon which to test the directing influence of the NO group. My model is going to be E=NO, R=CF3 (OK, largely because I already had that template to hand; I daresay E=Br might also be appropriate using e.g. acetyl hypobromite) and conducted in dichloromethane as simulated solvent. The transition states (ωB97XD/6-311G(d,p)CPCM=DCM) turn out as below.
This is a concerted reaction (no Wheland intermediate) as the IRC shows, although the relatively long O…N=O bond suggests that it is at least partially ionic/ion-pair like (if you are wondering if there are any examples in the literature that implicate a concerted mechanistic replacement for the Wheland intermediate, you might want to take a look at this one.)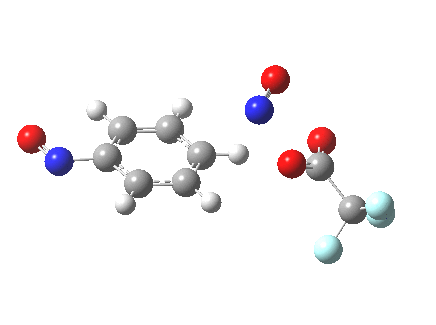 The alternative transition state, leading to m-substitution, is calculated to be 0.7 kcal/mol lower in its free energy activation barrier.
So if the nitrosyl group itself appears to be m-directing (a more complete investigation would test this for other electrophiles), why is the product p-substituted? Well, I also showed that nitrosobenzenes can easily dimerise, as shown below. This species now has a π-mesomeric resonance shown with red arrows below which really does promote the attachment of an electrophile in the p-position. This is now perfectly allowed; no issues of σ/π orthogonality here!
So the dénouement I suggest is that the experiment on which Robinson based his famous curly arrows can in fact be re-interpreted as indicating that it is the dimer of nitrosobenzene that is involved in its electrophilic substitution, and that the monomer (as with nitrobenzene) is actually m-directing. In effect, that dimerisation (which involves two nitrogen σ-lone pairs), bifurcates one of them into a π-pair, and this pair can now safely resonate with the aromatic ring to direct electrophiles.  
Tags: free energy activation barrier, Historical, Interesting chemistry, σ/π orthogonality, nitrosyl, non-polar media, o/p director, o/p director of aromatic electrophilic substitution, Reaction Mechanism, Tutorial material