Andy Extance at the Chemistry World blog has picked up on a fascinating article[1] on the dimer of SF2. This molecule has three F atoms on one S, and only one on the other; FSSF3. But all four S-F bonds are of different length. Lindquist and Dunning claim that the minimum energy pathway to dissociation to two SF2 molecules does not involve breaking either the longest or the weakest SF bond. This was too much for me to resist investigating further!
The computed ωB97XD/aug-cc-pVTZ geometry above[2] reveals the extent of the difference in bond lengths. What Lindquist and Dunning showed is that the two apparently longest (and implied weakest) SF bonds do not have the lowest bond dissociation energies, and offered an explanation using their methodology of coupled bond dyads obtained from GVB theory. But as a "transition state" person myself, I could not help but note that no such were described in their article. So I set out to look for one.
Firstly, I tried to find a transition state for [1,2] migration of the longest S-F bond (labelled 1.741Å above, axial at a trigonal bipyramidal S). Nope.‡ The one labelled 1.654Å seemed unlikely, so in desperation I tried the shortest S-F bond (1.582Å, equatorial at a trigonal bipyramidal S). Success! The computed IRC (ωB97XD/6-311G(d,p)[3] shows a surprise. The shortest S-F bond does indeed do a [1,2] migration, but it is accompanied in its travels by the longest S-F bond which also moves more or less in synchrony, although its motion is far less.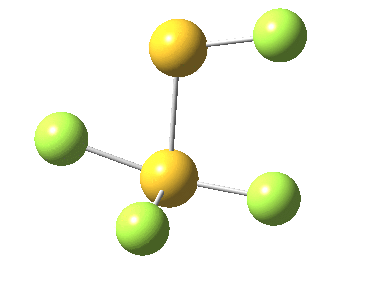 This transition state, it transpires is not on the pathway to dissociation, but is a double [1,2] migration (in this it is related to the coarctate mechanism, which involves two bonds breaking and two forming in a concurrent manner). It also has the feature associated with dyotropic rearrangements[4] that the central S-S bond is shorter at the transition state ((1.937Å) than for either reactant or product (2.073Å).
The barrier is > 60 kcal/mol (reduced only slightly by solvation[5]) which does rather tend to suggest that the formation of SF2 almost certainly involves homolytic dissociation and hence radicals, rather than a closed shell route found above.
Not relevant to the previous topic, but related to the post on ClF3 is the ELF analysis; an attempt to identify where the electron basins (mono and disynaptic) are. The sulfur bearing the three fluorines has one lone "pair" (1.88e to be precise, ringed below), whilst the other S has two (2.25e each). The total integration for the 4-coordinate trigonal-bipyramidal S valence basins however (6.43e) clearly indicates no "octet expansion".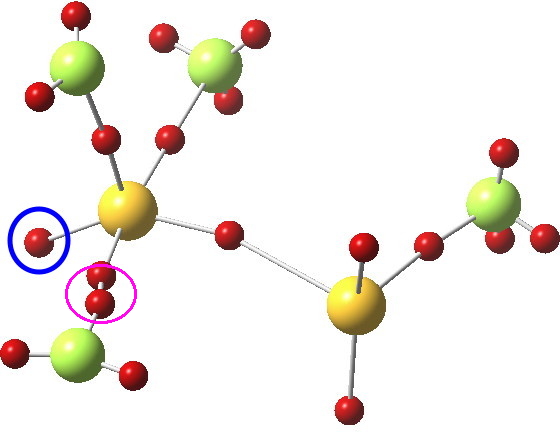 There are lots lots more to enjoy about this molecule, do go read the Lindquist and Dunning article for a sense of this.
---
‡But I did find it eventually.
References
B.A. Lindquist, and T.H. Dunning, "Bonding in FSSF3: Breakdown in Bond Length-Strength Correlations and Implications for SF2 Dimerization", The Journal of Physical Chemistry Letters, vol. 4, pp. 3139-3143, 2013. http://dx.doi.org/10.1021/jz401578h
Henry S. Rzepa., "Gaussian Job Archive for F4S2", 2013. http://dx.doi.org/10.6084/m9.figshare.791578
Henry S. Rzepa., "Gaussian Job Archive for F4S2", 2013. http://dx.doi.org/10.6084/m9.figshare.797514
D. Christopher Braddock, D. Roy, D. Lenoir, E. Moore, H.S. Rzepa, J.I. Wu, and P. von Ragué Schleyer, "Verification of stereospecific dyotropic racemisation of enantiopure d and l-1,2-dibromo-1,2-diphenylethane in non-polar media", Chemical Communications, vol. 48, pp. 8943, 2012. http://dx.doi.org/10.1039/C2CC33676F
Henry S. Rzepa., "Gaussian Job Archive for F4S2", 2013. http://dx.doi.org/10.6084/m9.figshare.798824
Tags: Andy Extance, Interesting chemistry, minimum energy pathway