Text books will announce that during aromatic electrophilic substitution, aromaticity is lost by the formation of a Wheland intermediate (and regained by eliminating a proton). Is that entirely true?
I will start by considering the simplest of all such intermediates[1],[2] the NMR of which was first reported by Olah and which is shown below (red). The values in black are from a ωB97XD/6-311G(d,p) calculation (chloroform)[3]. The discrepancy might be due to the difference in solvent (HF-SbF5/SO2ClF-SO2F2) and my failure to include a counter-ion in the calculation.‡ Actually, this result is only obtained at -134°C; warming to -70°C increases the rate of [1,2] ring shifts and only one "aromatic" peak at 8.09 ppm is observed.
 The computed MOs are shown below. MOs 21 and 15 are pretty much identical with those for benzene itself (the former because of symmetry),  so relatively little disruption of the conjugation there. An NBO analysis shows that each C-H bond from the sp3 centre acts as a donor to the π-system (E2 = 8.5 kcal/mol), which we know in another guise as hyperconjugation or σ-conjugation. In this sense, the two C-H bonds are acting as surrogates for a real p-AO on that carbon, and the E2 value is certainly not insignificant. Certainly they are nowhere near as good a donor as one real p-AO, but nonetheless, the two of them together are good enough to result in retention of a significant measure of cyclic π-conjugation, and hence probably aromaticity. The C-H bonds are weakened as a result of their electron donation, which reduces their normal mode wavenumber down by about 200 cm-1. The so-called Kekule-mode, which is depressed in benzene itself to about 1300 cm-1 because of the effect termed π-distortivity[4], is actually increased to 1442 cm -1 in the Wheland intermediate.[5] This mode is normally elevated by any weakening of the distortive π-system (in my previous post, I noted such an elevation induced by the quintet excited state of benzene) and so we many presume the same effect operates in the Wheland intermediate.
To get a measure of any aromaticity deriving from a ring current, I computed the NICS(1) value from the ring centroid. This latter was itself obtained from the coordinates of the ring-critical-point determined by a QTAIM analysis, and computed at that point and 1, 2 and 3Å above it. The NICS values are respectively -0.4, -6.1, -3.6 and -1.6 ppm. The maximum is indeed the NICS(1) point, and at that point, the value indicates modest, but real π-aromaticity.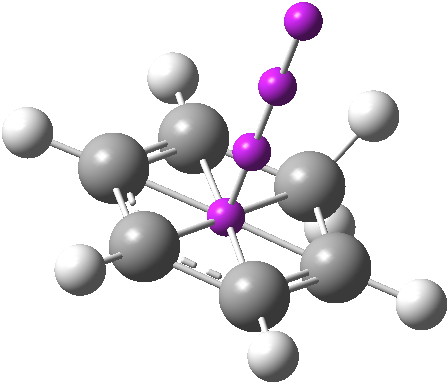 So does forming a Wheland intermediate disrupt all aromaticity? The answer is a clear no! What might be interesting to compute (I have not tried doing so here) is an actual energy for the stabilisation resulting from the weak aromaticity present as a % of that present in benzene, so that the text-books can be amended.
---
‡ It might also be that the exchange in the measured NMR spectrum was not entirely suppressed, and so some residual averaging of the peak positions remains.
References