In the preceding post, I described a fascinating experiment and calculation by Bogle and Singleton, in which the trajectory distribution of molecules emerging from a single transition state was used to rationalise the formation of two isomeric products 2 and 3.  In the present post, I explore possible consequences of including a sodium cation (X=Na+ below) in the computational model.
Sitting down to construct such a model, one is immediately faced with important decisions. Na+ comes with baggage, namely groupies in the form of solvent molecules and ionic bonding. The latter means less certainty regarding where to place the ion (covalent bonds have that nice attribute that their orientation and length is pretty predictable most of the time). I decided to construct the model shown below, using not one Na+ but two (such structures are known from the Cambridge crystal data base), the second Na+ being charge balanced by hydroxide anion.
The resulting transition state (B3LYP/6-31+G(d,p)/CPCM=ethanol) is shown below, and the free energy activation barrier, ΔG† is 11.7 kcal/mol, well down on the value obtained using X=H+, and entirely reasonable for a reaction occurring at room temperature. This suggests that the model is not unreasonable (but of course does not prove it is the best).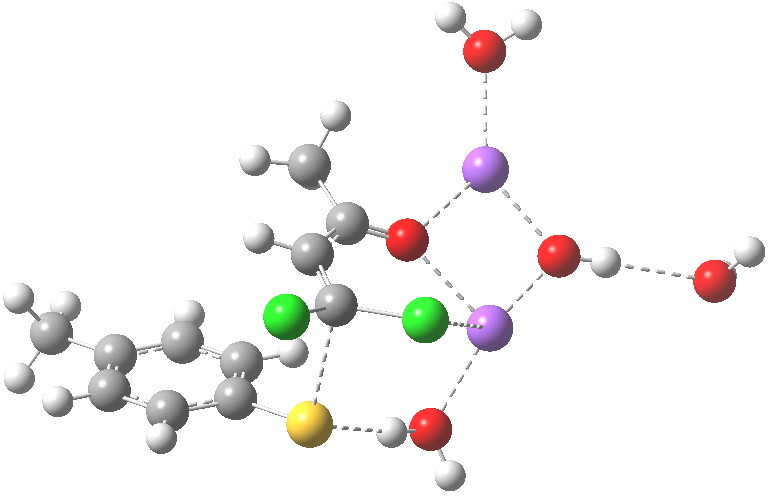 The geometry of this transition state is significant. Of the two C-Cl bond lengths, the shorter (click the image above to inspect the model) is the one cis to the carbonyl (subsequent elimination of which would result in formation of the major product 2). But an IRC reveals what happens next. Recollect that when X=H+ a tetrahedral intermediate is formed that then collapses with elimination of H3O+Cl–. This time, no intermediate is seen on the IRC, and the requisite C-Cl bond is broken to form 2 in a concerted (but very asynchronous) manner, and in the manner reported by Bogle and Singleton for a model without counterion and explicit solvent.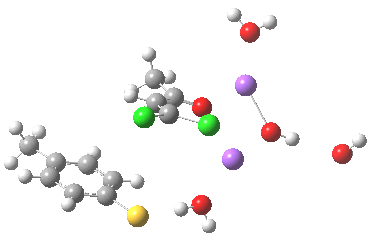 Notice how preparation for eviction of the C-Cl bond only starts after the transition state is passed. The forces on the departing chloride start to grow after the dihedral angle of the Ar-S-C-Cl system has become antiperiplanar (IRC -3), resulting in the anion shooting out towards one of the two Na+ cations to form solvated NaCl.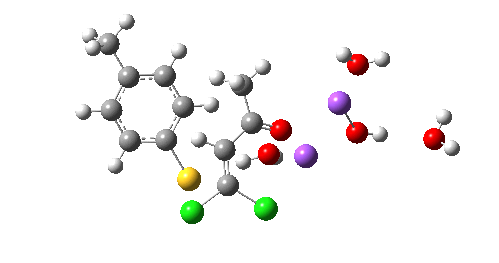 So we now have a rather more complete model. But is it yet complete enough? How would one go about evicting the other chloride, resulting in formation of 3? I think it is fairly clear that the model will have to be enlarged yet again, this time to include at least one more Na+ located on the other side of the carbonyl, and ready to receive the anion. Possibly at least another two water molecules and one hydroxide anion would be required to surround this cation. Clearly, such a model would have grown substantially compared to the original one (Occam might not be happy), and that we are gradually edging towards having two quite separate transition state models to account for each of 2 and 3. At this stage, it would be interesting to apply Bogle and Singleton's direct dynamics model to try to establish if each transition state leads to only one product, or whether either of these transition states could result in cross-over to the other product.
I have no feel for whether the  transition state presented here can be treated using direct dynamics; if it could, that would indeed be an interesting simulation.
Tags: Cambridge, isomeric products, Reaction Mechanism, simulation