This is a continuation of the discussion started on Steve Bachrach's blog about a molecule with a very short H…H interaction involving two Si-H groups with enforced proximity. It had been inferred from the X-ray structure[1] that the H…H distance was in the region of 1.50Å. It's that cis-butene all over again! So is that H…H region a bond? Is it attractive or repulsive? Go read Steve's blog first.
Next, in the previous post, I had blogged about assigning a publication doi to a procedure or tool. So Steve's post provided a good opportunity to show how this might work. This is the tool doi: 10.6084/m9.figshare.811862  Using it, and another doi, this time data: 10.6084/m9.figshare.812621 we can create a new data set, visualised below.‡ This is the NCI (non-covalent-interaction)[2] isosurface of the reduced density gradient, and colour coded according to (λ2)ρ, the eigenvalue of the density Hessian, to indicate attraction or repulsion. You should know that according to this scheme, blue is strongly attractive (it is normally seen for example for strong hydrogen bonds). You can see the blue region in-between the H…H region. So a strong (di)hydrogen bond then!
Well, interesting, and this needs to be looked into further. For example, it might in fact be an anomalous result since the H…H region may in fact have charge-shift character,[3] which can change the characteristics of the density Hessian (and its Laplacian). 
One more property, the NBO (natural bond orbitals) for this region. Can one tell if H…H is bonding? It might seem so. Finally, the Wiberg bond index for the H…H region is 0.027, very slightly bonding.
I should conclude by stating that whilst the initial discussion of this molecule took the form of comments on Steve's blog, the nature of the Word press system used there (and here) does not allow commentators to insert rotatable models into comments. So that discussion is continued here in order to achieve that effect.‡
---
‡ And yet another data-doi could be created showing the interactive display, and this could be transcluded back into Steve's blog to continue the to and fro.
---
Postscript: I have added the QTAIM analysis that first appeared on Steve's blog. The red arrow points to the H…H bcp. The blue arrow points to one of the other (three in all) bcps, all of which are very close to a ring critical point, and hence should be regarded as unstable and prone to annihilation.
The B3LYP+D3/TZVP calculated Si-H vibrations are shown below. The VCD spectrum[4] is shown below it.
Postscript 2. The Si-H vibration is reported as 2325 cm-1 (with weak bands at ~ 2360-2380), but in footnote 7 of the original report[1] the authors do note that there should be two Si-H bands. The calculation shown above suggests two values, 2406 (intensity 37) and 2460, intensity 10).
The 1H NMR spectrum of the two Si-H bands has two singlets which are reported (but not discussed in the text anywhere) as 8.23 and 8.56 ppm (Δδ 0.33ppm, CDCl3); B3LYP+D3/TZVP calculation[5] predicts 8.79 and 9.40 (Δδ 0.61 ppm). It is possible however these shifts are perturbed by spin-orbit coupling from the silicon[6]. The diastereotopic methylene groups are reported as 4.10 and 4.83, calc 3.95 and 5.03 ppm, which is a reasonable match, and gives confidence to the theoretical prediction.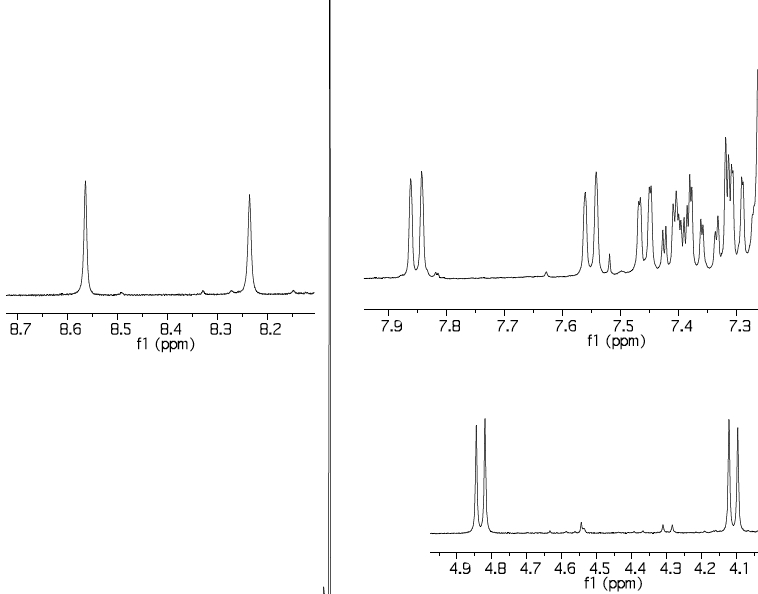 The 29Si NMR is reported as -32 and -40 ppm, calculated -31.6 (for the Si-H associated with bridging S) and -39.9 (for the Si associated with bridging C) ppm, which matches very well.
The reported 1H NMR spectrum appears to show 29Si satellites but their values are not reported numerically in the article. In Ph3Si-H, this coupling is known to be ~±205 Hz. The 29Si-1H couplings are calculated for the compound above as -191 (for the -31.6 peak) and -166 Hz (for the -39.9 peak), this latter being notably lower than the former. The 29Si-29Si coupling is 10 Hz. Most interestingly, the 0JHH coupling (i.e. through space) is predicted as +5.4 Hz; there is no sign of such a coupling for the two singlets reported at 8.23 and 8.56 ppm. This last observation may be of significance in terms of whether the axis along the four atoms Si-H-H-Si is indeed linear, or whether it is bent (enabling the two hydrogens to avoid close contact).
This problem is not yet closed!
References
Tags: Interesting chemistry, Postscript, Steve Bachrach, X-ray